Evenemang

Meet AWA at AIPPI World Congress in Istanbul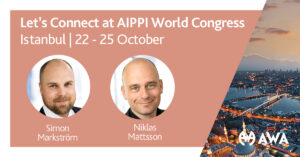 Simon Markström and Niklas Mattsson are attending the 2023 AIPPI World Congress from October 22 to 25.
The World Congress sees IP experts from around the world come together to take part in the making of AIPPI's 2023 Resolutions.
Please do not hesitate to contact Simon or Niklas to set up meetings during the event.
Simon is passionate about identifying and capturing value in his clients' intellectual assets and based on the client's specific business idea. Simon has wide experience in a range of technology fields, and an extensive experience of cases within the automotive industry and medical devices.
Niklas has extensive experience in drafting and prosecuting patents, performing freedom to operate and providing IP-related business advice within life science. He has deep experience in patenting of antibodies and other biopharmaceuticals, as well as in complex gene technologies and the interface between IT and healthcare. Niklas also is one of AWA's experts in pharma life cycle management, specialising in obtaining EU supplementary protection certificates and other patent term extensions.