Evenemang

Meet AWA at APAA in Singapore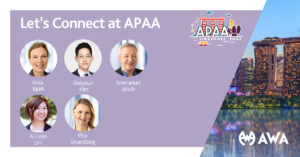 We are excited to connect during the APAA 20th General Assembly in Singapore from 3 to 7 November.
It is time to catch up with our partners from around the world to discuss future collaborations and continued efforts.
We have a team of five across in Singapore who are looking forward to meeting with you. Please do not hesitate to contact them to set up meetings.
Frida Björk is a Partner and European Patent Attorney specialising in life sciences including biotechnology, probiotics, SPCs, food tech and chemistry-related inventions. She has business experience with all kinds of patent-related issues, such as global patent application work, performing freedom-to-operate analyses and infringement investigations. She assists clients with patent issues of strategic importance and with global patent protection.
Daeyoun is a certified Korean Patent Attorney. He works mainly in the field of communications, electronics and software. Daeyoun has extensive experience in Standard Essential Patents of broadcast and communications. He is also experienced in prosecution, IP service, licensing and investment.
Emmanuel is a Senior European and Swiss Patent Attorney specialising in life sciences including pharmaceuticals, biotechnology, diagnostics and MedTech. He supports clients with licensing contracts, due diligence, FTO, validity and infringement opinions. He is experienced with drafting, filing and prosecuting patent applications worldwide.
Ai-Leen Lim leads AWA Asia's offices as CEO and Principal Counsel, managing its headquarters in Hong Kong and its wholly owned Chinese IP consultancy in Beijing. Ai-Leen's extensive branding experience provides her with the unique ability to evaluate brands as an intangible asset, enabling clients to build, maintain and protect their brand as part of an overall IP strategy.
Dr Ylva Strandberg is a registered Australian and New Zealand Patent Attorney specialising in the life sciences field and has spent over eight years in private practice at two Australian firms that are now part of Australia's largest patent law firm. She has extensive experience in global patent prosecution and providing IP strategy to corporations.