Awapatent enters the prestigious Legal 500 list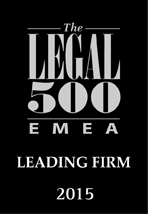 In the 2015 edition of The Legal 500 Europe, Middle East & Africa, Awapatent is recommended in the practice area Sweden – Intellectual property and media. Awapatent is the only specialized intellectual property law firm in the Swedish ranking; the other recommended companies are general practice law firms.
Furthermore, two of Awapatent's lawyers – Martin Tranälv and Peter Kenamets – are recommended in the same practice area.
The Legal 500 ranking is conducted annually and highlights the practice area teams who are providing the most cutting edge and innovative advice to corporate counsel. More than 250,000 corporate counsels are contacted globally to obtain feedback on which law firms meet the criteria required by today's in-house counsel and business leaders.