Video: Stephen Hawking speaks about poor child health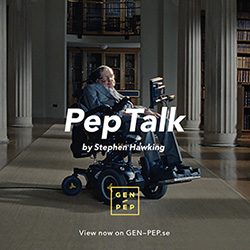 Swedish non-profit organization and royal initiative GEN-PEP raises awareness of the dangers of physical inactivity and poor diet among children – two leading causes of
premature death today. They asked world-renowned Professor Stephen Hawking to speak on behalf of the cause. Hear what he has to say in this unique video.
Awapatent is a supporting partner to GEN-PEP and their important work towards improving children's health. Please take a moment to share this video with your friends and help raise awareness.