Four of the World's Top 300 IP Strategists at AWA
AWA can now boast of having four of the world's top 300 IP experts on our dedicated team.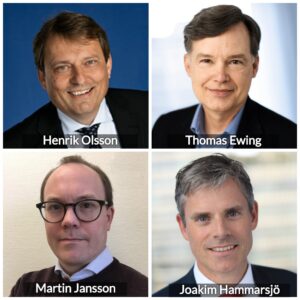 Four of AWA's IP professionals are listed on the well-renowned IAM Strategy 300 – The World's Leading IP Strategists.
Head of AWA Strategy Henrik Olsson joined the firm in 2016 after six years as Global IP Director for the Volvo Group. He has since successfully headed up the new business area with a team of experts specialising on IP strategy.
AWA Strategy was happy to welcome two additional senior IP strategists, Thomas Ewing and Martin Jansson, to Gothenburg-based team in 2018.
Thomas Ewing became a part of AWA Strategy in the beginning of the year to further grow the strategy group's expanding list of Scandinavian and international clients. Thomas is a commercial lawyer, registered patent attorney, and intellectual property counsellor with more than 25 years of experience in the IP field.
Prior to joining AWA Strategy in June, Martin Jansson spent 14 years working with IP in the industrial sector in various positions and different aspects of IP. The past eight years he was the Head of IP Strategy & Intellectual Assets at SKF, where he managed a global team responsible for developing and implementing SKF's IP strategies, and intellectual asset management capabilities.
Joakim Hammarsjö recently re-joined AWA as a Team Leader. He is also based in AWA's Gothenburg Office. Joakim's most recent position was as Group Director of IP Strategy and Portfolio at the Volvo Group, where he managed a team of global heads responsible for sub-portfolios, IP intelligence analysts and IP portfolio partners.