Evenemang

Meet AWA at INTA 2023 in Singapore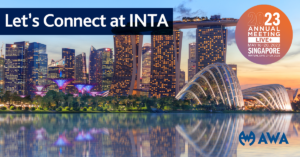 We are pleased to share that we have a delegation of six from across our offices in Europe and Asia at INTA 2023 in Singapore from May 16 to 20.
Please feel free to e-mail any of AWA's representatives at INTA to connect and set up meetings by clicking on their profile below. Alternatively, please reach out to your usual contact at AWA to coordinate a meeting.
We look forward to seeing you there.
Ann-Charlotte Järvinen – Partner, Attorney at Law, Head of Legal, Stockholm – Sweden
Daeyoun Kim – Patent Attorney, Korean Patent Attorney, Lund – Sweden
Ai-Leen Lim – CEO and Principal Counsel, Beijing – China
Kristian Martinsson – Partner, Attorney at Law, Head of Legal, Helsingborg – Sweden
Milana Pantelic – Partner, Trademark Attorney, Geneva – Switzerland
Ylva Strandberg – Patent Attorney, Australian and New Zealand Patent Attorney, Stockholm – Sweden